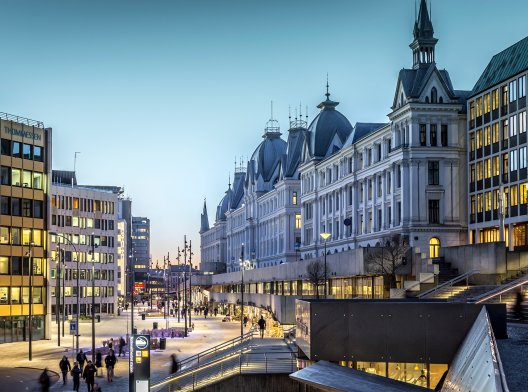 Certifications and Recognition
Certification and measurement strengthens our focus
The construction and real estate sector is important for the development of a more sustainable society. The sector accounts for 40% of the environmental impact of society, including in the field of greenhouse gas emissions, energy use, waste and the use of material resources.
Environmental management systems ensure that environmental considerations are maintained at all stages, and third-party certifications document the quality of the sustainability work in property management. Through the environmental certification and environmental classification of individual properties in connection with refurbishment and new construction, we cover the entire spectrum of relevant environmental aspects: Energy, materials, water, transportation, health and indoor environment, land use,ecology, waste and pollution.
International benchmarking of sustainability gives us another evaluation that is valuable both for continuous improvement in management and for the investors' evaluations.
Our certification and rating includes:
100% environmentally certified property management: Eco-Lighthouse, ISO 14001, BREEAM NOR In-Use
Environmental classification of individual properties: BREEAM NOR. Minimum requirements "Very Good" for refurbishment and "Excellent" for new construction.
International sustainability rating of asset management: Global Real Estate Sustainability Benchmark – GRESB. Our three portfolios are in second, third, and fourth places respectively among similar portfolios in the Nordic region.
Real estate investments are part of the total investments in the Guaranteed Pension.