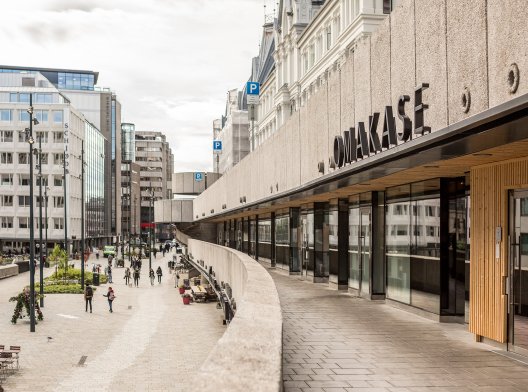 We take responsibility
Based on how our business and our industry impacts our environment, we take our share of responsibility for a more sustainable future. This is rooted in our sustainability policy.
The management of real estate investments is based on our vision for 2050 regarding
a climate-neutral society
closed material circulation
strengthened biodiversity
a health-promoting society


Our motto is to deliver green, healthy buildings and workplaces
This means buildings that provides healthy economics, are healthy to work in and with, and are healthy for the environment
Buildings that are environmentally certified and have the lowest possible footprint

Our sustainability goals
Sustainable buildings and cities
The UN's Sustainable Development Goal No. 11 on sustainable cities and communities is at the core of our operations, and it is the overall objective that frames the four prioritised target areas. The objectives apply to new investments, as well as the development, operation and management of property.


Climate and energy
Reduce greenhouse gas emissions from real estate operations to meet the 1.5-degree target of the Paris Treaty and make properties and management practices robust against climate change and climate risk. Adapting to the low emission society, including reduced energy use and transport, and promoting renewable energy.


Circular economy and materials
High level of reuse and recycling of materials, reduced use of new natural resources, reduced waste volumes and increased sorting ratios (also supports climate cuts).


Life on land and in water
Zero contamination of air, soil or water from the properties. Enhancing biodiversity, ecological quality and blue-green resources, utilizing roof surfaces, reducing water consumption.


Health and well-being
Promote good quality in buildings and the urban environment, health, well-being, safety and productivity, and reduce the associated risks to a minimum, for clients, employees, in the supply chain and in the community.
This is in line with the property sector's Road Map towards 2050. Storebrand was the first real estate company to endorse the vision and the ten immediate measures. The strategy also supports the Bygg 21 report's 10 quality principles for sustainable buildings and areas, and reports on the planet's tolerance capacity.